Express Yourself with Blackfort Equestrian's Base Layers and Matching Riding Sets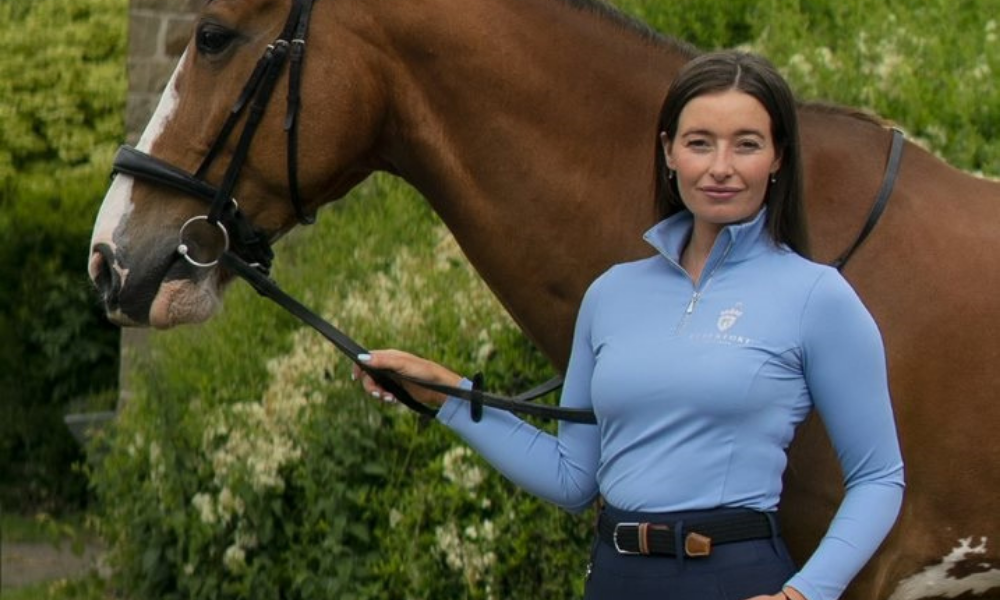 Blackfort Equestrian is taking the equestrian fashion world by storm. With a fresh twist on style and design, today's riders have more options to express themselves with riding apparel. You can wave goodbye to traditional looks and go for something more flattering, fun and comfortable.
By mixing and matching Blackfort Equestrian Base Layers and Riding Tights, the fashion- conscious rider can create a whole wardrobe of matching riding sets for any season, occasion, or mood.
But it's not all about looking good. Blackfort Equestrian clothing allows you to perform at your best both in the saddle and out of it.
Evolving equestrian style  
Equestrian style hasn't changed much over the years, and its purpose has remained the same — to be comfortable, practical, and safe. In the 1700s, women wore fancy riding skirts to cater for side-saddle, but since the early 1900s, when jodhpurs started to be worn by both men and women, equestrian fashion has remained largely unaltered.
The most noticeable advances have come in recent years with innovations in waterproof materials and technical, moisture-wicking, stretchy fabrics. Most manufacturers still play it safe and design riding clothes in traditional styles and classic colours but not Blackfort Equestrian!
The tagline, "Equestrian influenced. Style inspired." Expresses Blackfort Equestrian's mission to stir up equestrian fashion. And it's doing so in two prominent ways:
1.     A focus on feminine, flattering fits.
2.     A colour revolution.
Base layers and tights, like strawberries and cream…
Or peanut butter and jelly, or Pina Coladas and tiny umbrellas. You get the gist.
Blackfort Equestrian has designed an exciting range of coordinated base layers and riding tights for riders who want to create matching equestrian sets that turn heads.
We're not talking crazy shell-suit type combos or outlandish golfing outfits. We're talking about combinations that work together to create an understated style that is elegant and sporty.
Beautiful base layers
If you're looking for an affordable premium technical sports top that doesn't compromise on style, Blackfort Base Layers are for you. Crafted with the fashion-conscious Equestrian in mind, the branded detailing on the arm and the silicone logo on the chest will make you look and feel like a pro.
Practical riding tights
Made from a technical material that provides a four-way stretch and a compression feel, these quality riding tights will keep you feeling supported when out riding, around the yard, or even at the shops. And because they move with you, you'll barely notice you're wearing them.
Sometimes all you need is a little splash of colour
"The best colour in the whole world is the one that looks good on you." Coco Chanel.
Blackfort Base Layers come in a refreshing range of colours to include beautiful brights and perfect pastels.
Choose from solid blocks of rose pink, coral, plum, mint, light pink, sage, lavender, and corn blue.
The understated style comes into play when you match your base layer to a pair of Blackfort Equestrian riding tights. Pops of contrasting colour in the logos, stitching and ankle cuffs is just enough to subtly match your bottom half to your top half and present an overall picture of sporting equestrian harmony.
Choosing the perfect colour for your matching riding set
Did you know there's a whole science to the meaning of colours? We're not going to go too deep here, but what follows is a list of colours and associated meanings, as suggested by 99Designs.co.uk:
Red is for energy, passion and danger.
Orange is for creativity, youth and enthusiasm.
Yellow is for happiness, hope and spontaneity.
Green is for nature, growth and harmony, but also wealth and stability.
Blue is for calm, trust and intelligence.
Purple is for luxury, mystery and spirituality.
Pink is for femininity, playfulness and romance.
Brown is for wholesomeness, warmth and honesty.
Black is for power, elegance and sophistication.
White is for minimalism and simplicity.
Grey is for professionalism, formality and conventionality.
Multicolour is for fun, diversity and optimism.
Metallics are for wealth, prosperity and success.
You might enjoy matching your personality or mood to the colours above. Or you might choose your matching riding set based on your favourite colour, or because pink looks good on Cynthia the cob, your horsey best friend.
Too hot to trot
As a proud Blackfort Equestrian stockist, we think the best thing about Blackfort Equestrian is the combination of fun, function and flattering fit. So, go on, don your matching Blackfort Equestrian riding set and strut onto the yard like the modern, stylish rider you are!