Blackfort Equestrian Riding Tights - The Perfect Gift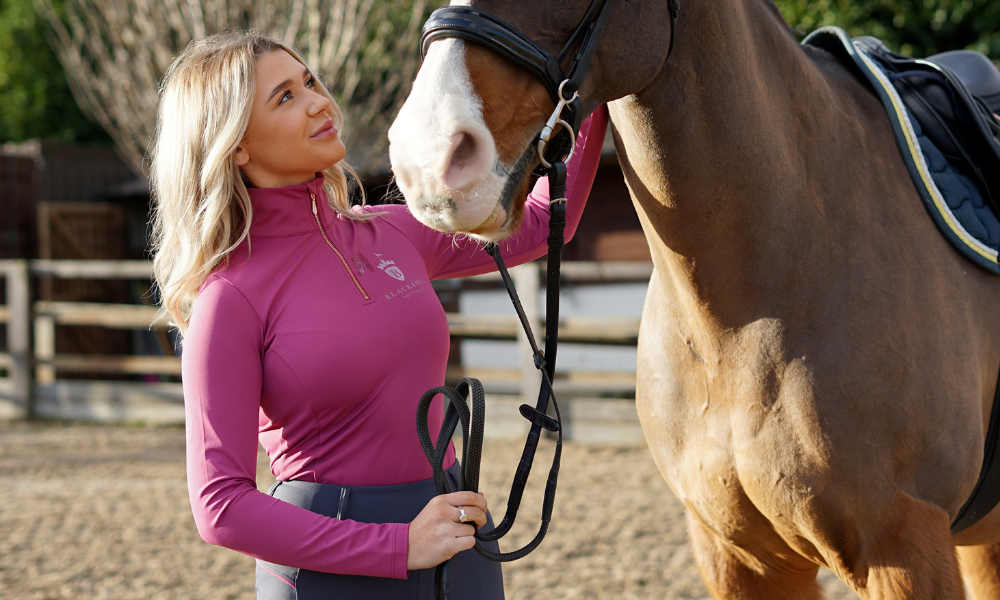 Blackfort Equestrian is an up and coming brand with a new twist on equestrian style. The revolutionary Blackfort Equestrian Riding Tights combine feminine style with a flattering fit and sporting performance. In this blog, we'll explain why they make the perfect gift and why you'll want to treat yourself to a pair too.
Feminine style
Ask any equestrian what their dream present would be, they'd probably say, after a horse of course, beautifully branded and practical clothing. So, put a smile on their face this year by treating them to a pair of Blackfort Equestrian Riding Tights.
Choose your gift from a range of classic base colours with pretty pastels or vibrant colour pops.
We particularly love the navy or grey base colours with pink or mink ankle cuffs and matching logos.
For something a little more eye-catching, how about a lovely pair of Sport Riding Tights, which feature athletic contour stitching to the leg.
Crafted with the fashion-conscious equestrian in mind, Blackfort Riding Tights sport elegant, subtle, and practical details, including:
Belt loops for the perfect fit and equestrian style
Two secure phone pockets
Ankle detailing with thinner cuffed fabric for zipping up boots
High waist for added comfort and style
Beautifully detailed full seat for security in the saddle
Logo styling.
Flattering fit
Designed to fit any body shape, Blackfort Equestrian Riding Tights are super comfortable and supportive. They come in a wide range of sizes with advanced four-way stretch material to support you in all the right places.
The Blackfort Equestrian Ladies Compression Riding Tights offer even more support through the leg and hip. And the Sport Riding Tights offer a flattering contoured stitch detail on the outside of the thigh.
These tights are so flattering, you could easily step from field to pub. Add some smart ankle boots and a polo shirt, and you'll be stylishly comfortable all day long.
Sporting performance
Made from premium fabric with a soft and buttery feel, Blackfort Riding Tights have been designed to perform in all equestrian sports. Active riders will enjoy all-day comfort with no rubbing and pinching, and complete flexibility.
A smooth material, however, doesn't mean slipperiness in the saddle. Blackfort Tights come with a full-seat grip, moulded from mini Blackfort logos (very cute). You'll feel safe and secure and in closer contact with your horse.
The four-way stretch fabric means your tights move with you. And the moisture-wicking, breathable, quick-drying material is ideal for all weather conditions. So come rain or shine, your Blackfort tights are the perfect apparel.
Another benefit of these stand-out performance tights, and one you might not automatically think of, is that you can wave goodbye to the haystack look. Hay and debris find it hard to stick to the smooth material which means you can easily swap the yard for a yoga class.
Yes, that's right, why stop at equestrian sports?
Blackfort riding tights feel like a second skin, which means they're also great for yoga, pilates, gymnastics, and running.
Exceptional quality without the price tag
Ranging from £42.95 - £49.95, these premium riding tights can be half the price of other leading brands. And with no bobbling, no wearing of the rubber grip, and no misshaping, Blackfort tights provide longevity and great value for money.
There's a saying: "The best gifts come from the heart" — The Blackfort Equestrian brand was born out of its founder's love of horses, love of the sport, and a love of functional, affordable clothing without compromising on style.
This is a true gift for equestrians from an equestrian.
There's so much to love about Blackfort Equestrian Riding Tights. We could talk about them all day, but you might prefer to read these reviews by Jade, Retail Manager at Eland Lodge, and Sally, a regular customer. Sally, has tried and tested three different pairs of Blackfort riding tights:
Sally reviews: the Blackfort Equestrian Riding Tights
Jade reviews: the Blackfort Equestrian Baselayer and Riding Tights
Blackfort Equestrian at Eland Lodge
Pick up a pair of Blackfort Equestrian Riding tights at Eland Lodge — perfect for birthdays, Christmas, and just because.
You can browse the Blackfort Equestrian clothing range online or in-store. Choose from sports riding tights, thermal riding tights, compression riding tights and the Blackfort Equestrian competition breggings.