Why We Love Fairfax & Favor Sheepskin Boudica Boots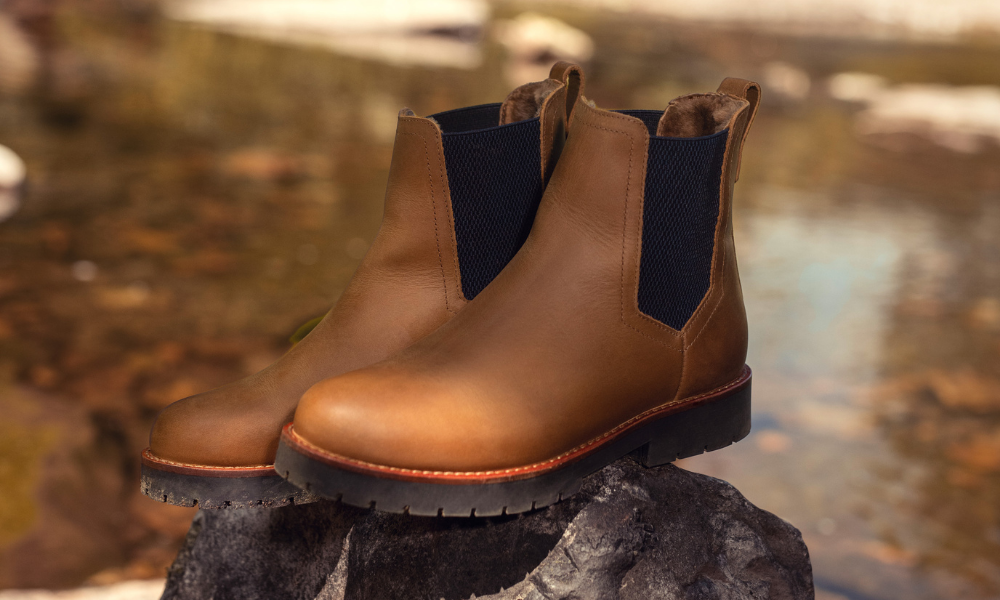 If we had to pick a good all-rounder, it would be the Fairfax & Favor Sheepskin Boudica boot. It's a versatile boot for city, country, work, and adventure. And it's easy to style up or down.
Fairfax & Favor is renowned for its iconic tall boots and ankle boots in classic British styles. We're proud to stock a wide range of Fairfax & Favor boots at Eland Lodge, but the Boudica is the ultimate all-terrain leather Chelsea boot.
In this blog, we delve into why we love the Boudica boot. You'll learn the history behind the popular Chelsea boot style, what to wear with your Boudica boots and how to care for them.
The Chelsea boot — it's been around for a while and it's here to stay
It's not surprising that Fairfax & Favor have designed the Boudica boot in the classic Chelsea style; it fits so well with their aim of bridging the gap between smart and casual.
First designed by J. Sparkes-Hall (Queen Victoria's cobbler), the Chelsea boot was an alternative to the intrinsically laced boots around at that time. But the name 'Chelsea boot' didn't emerge until the mid-1900's when a set of socialites started wearing them in Chelsea, West London.
Fairfax & Favor has stayed true to the Chelsea boot style but with an additional treat for the feet
— the luxuriously soft and warm shearling lining. Ahh…
What's so good about Fairfax & Favor Boudica boots?
The luxurious lining for a start! It's super snug and comfortable.
The waxed full-grain leather outer and thick, robust sole keep your tootsies nice and dry and protected, and the elastic panels allow for flexibility and ease of movement. But what do we love most about these Fairfax & Favor ankle boots? They are adventure-ready but look good too.
Psst… Did you know Boudica means 'victory'? The word dates back to a British Iceni Queen who led an uprising against the conquering forces of the Roman Empire. Way to go Queen Boudica!
Style your Boudica boots up or down

With three classic colours to choose from: oak, mahogany leather, and black, you can go wild (or not) with your outfit colours. And because the Boudica is a staple for the colder months, the following style tips are tailored to autumn and winter outfits.
Style tips for weekend wanderers

Boudica boots can brave whatever the weather throws at them, so there's no excuse not to wrap up warm and get exploring.
For a casual but practical look, pair your Boudicas with some Fairfax & Favor socks, and skinny or tapered-leg jeans or trousers. Boudicas work best with trousers that narrow at the ankles.
Top tip: Don't tuck loose-fitting trousers into your Boudica boots; you'll get a squashed trouser look. Instead, choose trousers or jeans that sit just above the top of the boots. You could roll the bottoms up if they're too long.
On chilly days, wear your jeans with a cute knit jumper and a cosy gilet on top. A breathable waterproof jacket will help keep you warm and dry. Finish the outfit with a super soft hat, gloves, and scarf combo and you'll be set to roam mile after mile after mile…
Style tips for a day in the city

Walk straight off the field and into the city in your all-purpose Boudica boots (you might want to brush the mud off first). The Chelsea-style boot is guaranteed to add a touch of sophistication to your city outfit.
For a smart-casual look, team your boots with a shirt dress or a shift dress and a pair of warm tights. Not only will you look great, but you'll also be comfortable. A shift dress fits every body shape and hides a million flaws; for a more flattering fit, you can bring it in at the waist with a gorgeous Fairfax & Favor belt.
Top tip: Wearing boots with trousers or tights in the same colour can make you appear taller and leaner.
A long winter overcoat and a stylish Fairfax & Favor handbag will take your outfit to the next level.
Looking after your boots

Clean and condition your boots, and they'll last for years.
Remove dirt with clean water and allow them to dry
Condition with Fairfax & Favor Smooth Leather Cream. This wonder cream maintains suppleness and ensures water resistance.
Buff to a shine with a clean
Top tip: Even if you don't regularly stomp through mud and dirt, conditioning your boots once a month will keep them soft, supple and shiny new.
The perfect gift

The versatility, longevity, and stylish good looks of these beautiful Boudica boots, make them a perfect present. So pop them on your wish list quick.
If you have any questions about Fairfax & Favor Boudica boots, give the Eland Lodge team a call, or pop in and have a browse.