Riding Hats - Everything You Need To Know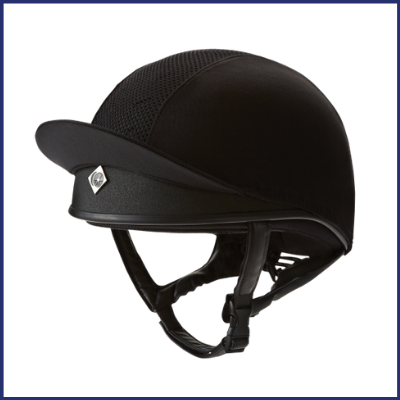 One of the most important pieces of equestrian equipment you will own is your riding hat. Your riding hat's sole purpose is to protect your head in the event of an accident or fall from your horse, so it's vitally important to make the right choices to get the best riding hat for you.
At Eland Lodge we take you safety seriously, which is why we've written a series of riding hat blogs to help you make the best decisions about the protection of your head while you ride. First of all let's answer a few of the most commonly asked questions about riding helmets.
What is a riding hat?

A riding hat is a protective helmet specifically designed to be worn when taking part in the equestrian sport of horse riding. A riding hat will have been designed and tested to ensure that it helps absorb the impact in the event of a fall from a horse.
There are several different types of horse riding helmet to choose from, depending on the equestrian activity you're taking part in, and your own personal preference. These are jockey skull caps, velvet riding hats, and lightweight riding helmets.
How to check if your riding hat fits

It's important that your riding hat fits properly, so that it can give you the best protection in the event of a fall from your horse. A properly fitting riding helmet will feel snug, lock on to the back of your head, sit straight across your forehead, have no large gap between your head and the helmet, and not create any pressure points.
Take a look at our handy guide on how to check if your hat fits correctly. There's also some helpful information on how to tell if your riding hat is too small or too big.
If you are unsure of the fit of your helmet, or if you need to purchase a new riding hat, it is recommended that you visit a BETA (British Equestrian Trade Association) Approved Retailer. At Eland Lodge we offer a free fitting and checking service with our fully trained and qualified staff.
Riding hat safety standards

The different horse riding and equestrian sporting governing bodies all enforce minimum safety standards on the riding hats. The more standards a riding hat meets, the more accident scenarios you will have protection from. The main international riding hat safety standards are PAS015, VG1, SNELL and ASTM.
If you're competing or taking part in organised equestrian activities it's important to have a hat that meets the required safety standards. British Dressage, British Showjumping, British Eventing and the Pony Club all have their own competition rules regarding headwear. The British Horse Society also has rules in place for standards of riding helmets that can be used in horse riding lessons. See our safety standards guide for the 2020 riding hats rules for UK equestrian competitions.
It's also important to choose from a well known riding hat manufacturer for ultimate peace of mind. Here at Eland Lodge we stock riding hats from the leading safetywear manufacturers including Charles Owen, Champion, Gatehouse and Uvex.
Which riding helmet is the safest?

Ultimately, the riding helmet which fits you the best will offer you the most protection, that's why it's important to get your riding hat fitted at a BETA Approved UK Retailer.
Alongside safety standards, there's also great features such as the MIPS Brain Protection System in place to add additional protection in the event of a fall.
Buying a second-hand riding hat is not recommended, as you do not know how old the hat is, if the hat has been stored correctly, dropped or fallen on. All of these factors could compromise your safety.
How often do you need to replace your riding hat?

There are a number of reasons why you might need to replace your riding hat: after you've suffered a fall, if your hat has been dropped or knocked, if your hat has been exposed to excess sunlight, heat, moisture or cold, or if your hat has reached the end of its 3-5 year lifespan. Find out more about the factors that can affect your riding hat's safety here.
How to clean your riding helmet

It's important to keep your riding hat clean so that it is comfortable, smart, and can offer you the best protection. To clean the outside of your helmet, use a soft brush or damp cloth to gently wipe away any dust or dirt. To keep the inside of your hat fresh, work in specialist hat cleaner or deodoriser with a damp cloth to break down and grease or dirt.
Which is the best riding helmet?

The best riding helmet for you is the one that has the correct safety standards, is in the right style for your equestrian activities , and most importantly is the one that fits you best.
There are three main types of riding hats to choose from:
Jockey Skull Cap

A jockey skull cap is a type of horse riding hat designed for use in the most extreme equestrian sports like cross country riding and horse racing. The jockey skull cap doesn't have any fixed peak, and usually has a slightly abrasive outer. You can personalise your skull cap with a plain or colourful hat silk or cover. Jockey skull caps are a popular choice for eventing, hunting, racing and everyday riding. Find out more about jockey skull caps here.
Velvet Riding Hat
A velvet riding hat is the traditional choice for English equestrian headwear. Featuring a smart and luxurious velvet covering, modern velvet riding hats combine the latest sophisticated safety standards with classic styling. Smart velvet riding hats are worn in the show ring, on the hunting field, and for everyday riding, hacking and schooling. 
Lightweight Riding Helmet

There's a huge choice of stylish, sophisticated and lightweight riding helmets on the market. This modern style of helmet is popular for showjumping, dressage, and everyday riding and training thanks to the sophisticated stylish, high safety standards, and rider comfort.