Horseware Rambo Anatomical Bridles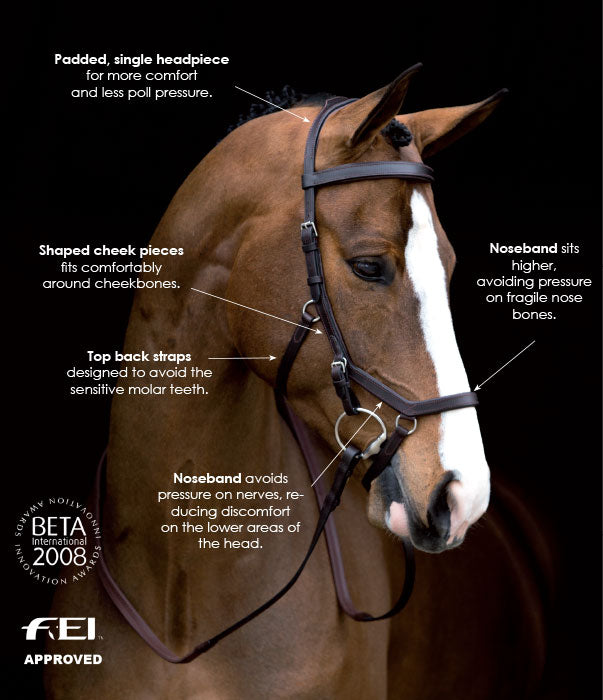 Produced by Horseware, the Rambo Micklem was one of the first anatomical bridles to come into the limelight. Winner of the Innovation Awards at BETA in 2008, the Micklem range are still one of our most popular anatomical bridles to date, with many riders reporting fantastic positive changes since using them.
Designed from the inside out, it is shaped to fit the horse's skull, avoiding pressure on the main facial nerves whilst protecting the cheek bone and molar teeth of the upper jaw. The noseband also sits higher to avoid pressure on the fragile nose bones.
The Horseware Rambo Micklem Competition Bridle is a show quality bridle made from hand finished leather with soft padding on the headpiece, browband, noseband and cheekpieces. The bridle is FEI approved and suitable for all disciplines, an ideal choice for an affordable anatomical bridle.
The noseband sits higher avoiding pressure on the fragile nose bones. The bottom back strap gives similar functionality to a flash noseband.
Noseband avoids pressure on the motor and sensory nerves exiting at this point, reducing discomfort and numbness on the lower areas of the head.
A shaped, widened and padded headpiece with no separate uncomfortable narrow noseband, spreads the pressure evenly over a wide area of the poll.
The shaped cheekpiece fits comfortably around the protruding cheekbones, avoiding unnecessary pressure.
The noseband and back straps avoid the protruding molar teeth, so sensitive tissue inside the mouth is not damaged.
How to Fit a Rambo Micklem Bridle

Fitting the bit straps
Fit the bit straps to your bit first, with the buckle on the outside and the end of the strap facing upwards, then attach to the bridle using the bit rings at the bottom of the cheek pieces.
Positioning the front nose piece
The key to fitting your Rambo® Micklem Bridle is to ensure that the front nosepiece is approx 2 to 3 inches higher than the corners of the mouth and at least six fingers above the nostrils.
Doing the top back straps
This should be fastened flush with the skin, not loose like a throat lash.
Doing the bottom back straps
This fits like a standard dropped noseband, underneath the bit and flush with the skin.
Fitting the tongue and bar protector
Use the appropriate length clips to join the bit to the side rings and you have a unique tongue and bar protection system.